Lexington native Nick Schwendeman, CPM Emeritus, is Executive Vice President of Asset Management and serves on the Board of Directors of The Webb Companies.
After beginning his career in the hospitality industry with Hyatt Hotels and Radisson, Nick transitioned to real estate in 1983 when he joined The Webb Companies as a property manager. He earned his Certified Property Manager professional designation in 1990 from the Institute of Real Estate Management, and was promoted to Vice President of Property Management. In this role, he managed a real estate portfolio of office, hotel and retail space, condominiums and parking facilities.
In December 1996, he was appointed by the Chief Justice of the Kentucky Supreme Court as Facilities General Manager for the Administrative Office of the Courts. He was also appointed to the Capital Planning Advisory Board, which reviewed capital project requests from all agencies of the state government.
Nick rejoined The Webb Companies three years later as Senior Vice President of Asset Management. Today, he manages a complex real estate portfolio of nearly one million square feet of office and retail space, as well as parking facilities.
He is an active member of the Institute of Real Estate Management and has served as President of the Kentucky Chapter seven times. The institute named him a Regional Vice President in 2003 and 2004, overseeing chapters in Michigan, Indiana, Ohio, Kentucky and West Virginia. He has also served the Institute on a national level as Chairperson and Member of several committees. Nick is an Institute Affiliate Member of the Lexington Bluegrass Association of Realtors.
Nick holds a bachelor's degree in business administration from the University of Kentucky and a Kentucky real estate sales associate license.
Nick is an active volunteer and former member of the Board of Trustees at his high school alma mater, Lexington Catholic. He lives in Lexington with his wife and has two sons.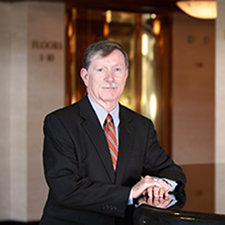 Executive Vice President of Asset Management